Good Morning!
One of the key parts of selling a home and getting top dollar for it is to have it look appealing to would be home buyers.  Home staging has been a trick that has worked well for me as a listing agent for years.  If you are considering selling your home, here a some ideas that will help you get top dollar in any market. This is an article from "Realty Times".
Getting ready to sell your home? It would be awesome to hire a home stager.
Home stagers are paid to furnish a home and help it look its best. What they create isn't so much the ideal living environment but rather the idealized one—one in which there are no awkward furniture arrangements, toys on the floor, crumbs on the countertops, or surprises in the toilet. It's not maintainable for most people everyday, but boy does it work when selling your home.
Stagers typically have furniture and accessories at their disposal—not to mention interior design degrees. But they can cost hundreds—even thousands—of dollars. Fortunately, you can achieve great results by using some of their tricks.
Clear it out and clean it up
The first step in preparing any home for sale is to clear it out and clean it up, getting rid of clutter and personal items and scrubbing it down.
"De-cluttering — and having a pristine home from top to bottom — are the no-brainers that can make your real estate look better than the house down the block," said Better Homes and Gardens. "Your home must be cleaner and less cluttered than it's ever been. You need to banish not just the day-to-day buildup (the mail, the shoes, last season's clothes, the dog hair), but also several years' accumulation."
Removing kids' toys, outdated furnishings, and excessive knickknacks can help. Whatever you can't sell or donate, box up and store at a friend or relative's house, or rent a storage unit for a couple of months. Or, if you can do so neatly and without compromising your garage space, stack them along a wall.
Depersonalize
A house that reflects your personal style from floor to ceiling and all over the walls (and every other surface) will have a hard time appealing to buyers.
"Prospective buyers won't be able to picture themselves in the house if they're surrounded by dozens of photos of your children and grandparents," said Bankrate.
Update the bathroom
Not everyone has the funds for a big bathroom renovation prior to selling. Smart changes can make a big difference.
"Avoid dated tile by painting. Bathrooms sell houses, but dated tile in a bathroom doesn't. A low-cost alternative to replacing the tile is to use paint," said HGTV. "First coat the tiles with a high-adhesion primer.
Next, brush on a special ceramic epoxy covering. For a fraction of the cost of new tile, you will have an up-to-date bathroom that brings in big bucks."
Pay attention to design details
After you've cleared away the clutter, you want to focus on creating simple, elegant designs. It's easier than it seems.
"For a visual impact on a table without a lot of fuss, remember a design basic: Groupings of odd numbers always do the trick! Three of a kind, like…hurricane jars, filled with something as simple as pinecones, makes a ridiculously easy and dynamic table scape," said Katie Jane Interiors.
Up your curb appeal
Make sure you make a great first impression, or you might not have an opportunity to make a second impression.
"You may have spent hours making sure the kitchen is clean, and doing so is worth the effort," sad Bob Vila. "But remember, the facade is the first part of your house a potential buyer will see. A little landscaping can go a long way. Strapped for time? Potted plants placed around the front door will add welcome charm to your entryway."
Pay attention to odors
We get used to our environment, so we might notice that musty smell or cat box aroma. Have your realtor or a trusted friend do a walk through and give you an honest assessment—not just of the way the house looks, but how it smells. Then take action to improve it. Start by steam cleaning the carpets and any upholstered pieces that need it.
Don't ignore the windows
Windows that are cloaked by outdated or heavy window coverings can negatively impact the image your home projects. Open the blinds and replace drapes with inexpensive versions that will let the light in and frame the views.
"Need to dress up a window but don't want to shell out big bucks for window treatments? Here's a trick: Use place mats," said HGTV. "First, apply a hook-and-loop fastener to the place mats and attach them in a row to a basic curtain rod. Now that the place mats are attached to the curtain rods, pin them together at the bottom, and you'll have a stylish valance that costs about $12."
Upgrade the Furniture
Giving your home a fresh, clean look with new furniture can make it feel more modern and appeal to more buyers. Don't have money for new stuff? "Try giving worn-out pieces a pick-me-up with new pillows or a slipcover," said Bob Vila.
While you're at it, take a look at your furniture layout too. "Your preferred setup may not be the most appealing one to would-be buyers. Where logical, opt for a social layout that makes it easy to envision the space being enjoyed among family and friends."
Give rooms a single purpose
That home office that doubles as a guest room is useful, but when it comes time to sell your home, pick one and run with it. "Potential buyers are confused by extra rooms that have a mishmash of uses," said HGTV.
Have An Awesome Week!
THIS WEEKS HOT HOME LISTING!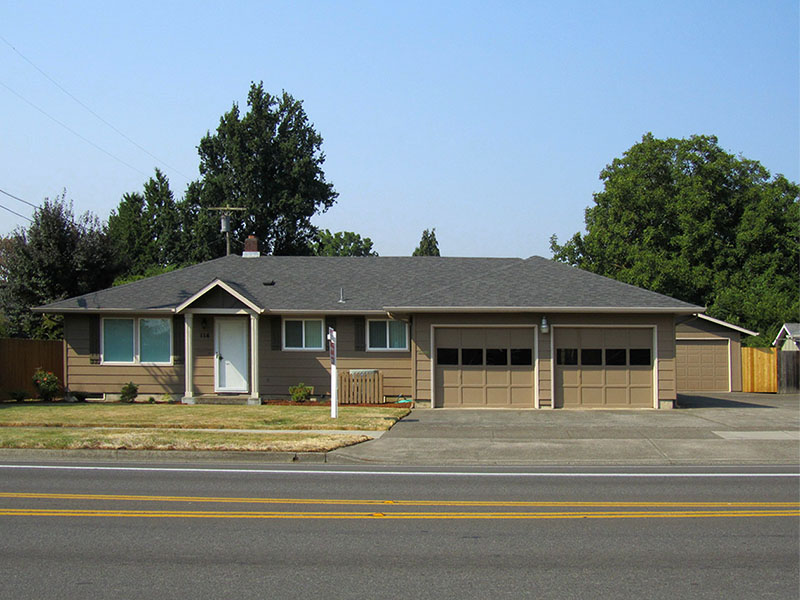 114 Hayden Bridge Way

Price: $259,900     Beds: 3     Baths: 2     Sq Ft: 1451
Pride of ownership shows. Over 1/4 of an acre offers oversize attached garage, detached garage/shop with workbench, long wide drive with room for RV parking, large fenced backyard with covered patio, plus timed sprinkler system. Great room with fire…
View this property >>